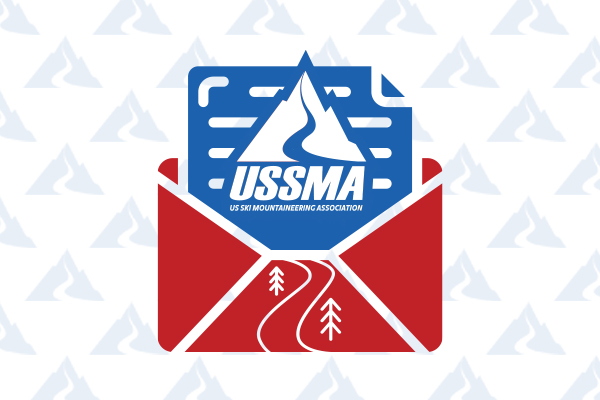 All your USA Skimo News here!
The snow is flying and ski season is just about here! We hope you are getting excited for whatever this season brings. We have a lot of updates for you in this newsletter. Although the season is still up in the air in many respects we are doing our best to get you the most up to date information as we get it. Stay safe and positive!
---
US National Team & World Championship Team Selections:2020/21 US National Team & Worlds Team Selection Process – CANCELED
Due to uncertainty in being able to hold safe and fair qualifying races, the USSMA has made the tough decision to not have a USNT for the 2020/21 season. This was a decision we didn't take lightly and involved many hours of discussion and the input of many people, and with safety being the priority. Many races domestically and internationally are unknown at this time and travel anywhere is increasingly being limited. A USNT plan will be determined and communicated at a later date for the 2021/22 season.
Any athletes looking to race an ISMF sanctioned race (World Cups / World Championships), please reach out to info@ussma.org to discuss obtaining an ISMF license.
Due to the lack of a USNT this year, the USSMA is working on a high performance training and education program / group, that will be available for interested competitive member athletes to sign up for. It will likely include periodic education meetings and/or presentations around training, nutrition, rules & regulations, anti doping, etc. The goal of this program is to keep interested athletes engaged, learning, building relationships and camaraderie, and continuing to progress as elite skimo racers. Stay tuned for more information, as we hope to roll this out before the beginning of the new year.
---
ISMF Race Season Update:
The ISMF and World Cup organizing committees are still planning to hold races, but there are still many unknowns and updates will come out as race dates get closer. http://www.ismf-ski.org/webpages/competitions/calendar/
---
USSMA Membership:
Thank you for renewing your membership this season and continuing to support the organization! Consider getting a USSMA Membership for that special someone who enjoys skiing fast in spandex this holiday season! To purchase, hit link below. Email katie@ussma.org if you have any questions about membership.
USSMA Membership:
Development and Fundraising:
Despite the uncertainty over the upcoming race season, we are very encouraged by the membership renewals thus far — many thanks for everyone's support!
---
Medical/Covid-19:
The USSMA has been in communication with our medical directors during this pandemic and also many of the race directors. We all agree that we'd love to see races happen this season and are all hoping for the best. With the situation changing ongoing, we are here to help communicate and facilitate, but the individual races will make their own decisions whether to hold races or not. There are many factors they will be working through, such as resort access and guidelines and state and local health regulations and guidelines.
We are hopeful there will be some racing this season! Let's all be patient and await race director information, which we imagine will be ongoing up to race dates.
ISMF COVID-19 info: http://www.ismf-ski.org/webpages/competitions/covid-19/
Be safe and stay healthy!
---
Race Updates:
The COSMIC Race series has announced they will "indefinitely delay all races this season".
The NE Rando Race Series is still planning some races, but much is TBD.
We know many of you are itching to get out and compete. We are hopeful some races will take place, but we're sure some won't. One great option is to check in with your local communities and see if existing local race series are still happening.
The USSMA Race Committee has determined that it is unlikely that the majority of racers will be able to participate in national level events due to state and/or local quarantine requirements and travel restrictions. Because of this and the fact that many races will be TBD, we have decided to not hold the USSMA National Cup Series or National Championships for the 20/21 season. However, we hope there will still be some sanctioned races, and if so, points rankings will still be held. The USSMA will still be sanctioning events that are able to happen, so get out there and chase points! Sanctioned events will have points assigned 50 places deep this season with results and points posted at SkimoStats.
The Race Committee is excited to announce a partnership with SkimoStats.com to provide the official points rankings of the USSMA! If you want to take control of your racer profile on their website, go to https://skimostats.com/contributions
---
Sport and Performance:
There are several new skimo teams forming around the country that the Sport and Performance Committee would like to let you know about!
Team Summit is a huge organization that is starting a Skimo program, and USNT Member Jaime Brede is leading the charge! They have gear partnerships with Hagan Ski Mountaineering and Dynafit to get kids into Skimo for 40% off retail and they are super psyched! See link for more info.
Montana Endurance Academy is starting a Skimo Team in the Bozeman, MT area, for information see https://www.montanaenduranceacademy.org/winter-skimo-programs.
If you know of any skimo groups or teams starting in your area please let us know!
---
Athlete Advisory: Message from your "Athlete Representatives"
We, the Athlete Advisory Committee (AAC), want to ensure that all athletes are aware and are taking advantage of all the USSMA member benefits. One of the critical components of any organization is open and transparent communication between the governing body and the athletes. We would like you to know that we are here working hard to be your advisory, listening to all you have to say, answering questions and making sure your voice is heard.
Each member, whether new or seasoned, has a unique perspective. We value your opinion and hope you'll share your thoughts and experiences with us.
OUR MISSION is to represent and communicate the interests of athletes, review, react and advise in cooperative support of the USSMA achieving its own mission.
We understand that the 2020-21 race season is going to be unique and we are here to support you. You may have many questions and concerns. We assure you that you can reach out to us anytime.
New this year, we have assigned regional AAC representatives to make sure your region is being heard locally and nationally. Feel free to directly contact your regional representative or if you prefer, you can always contact the entire AAC group at aac@ussma.org.
We hope you have a safe and enjoyable ski/race season. Let it snow!
YOUR AAC TEAM
Patrick – Patrick@ussma.org – Alaska, Arizona, California, Nevada, Pacific Northwest
Jaime – Jaime_Brede@yahoo.com – Colorado
Michela – Michela@ussma.org – Idaho, Montana, Wyoming, Midwest
Grace – Grace@ussma.org – New Mexico, Utah
Milan – Milan@ussma.org – Vermont, New England, Northeast
---
Marketing:
Keep your eyes open this month for tips and tricks for skimo racing as well as news updates to keep you stoked. The Marketing Team will be working hard to get you the latest information possible. Looking for a gift for the upcoming holidays? Consider a USSMA hat! See link below.