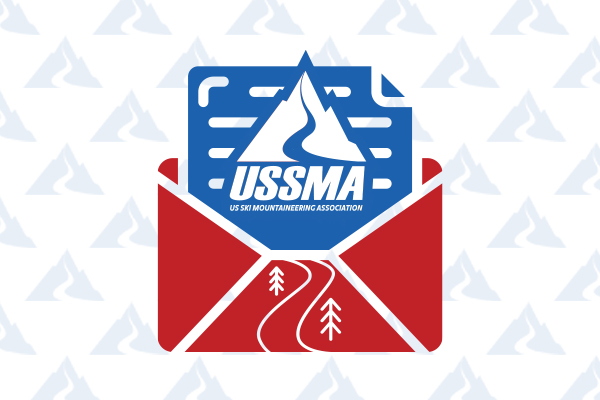 Hello Skimo Community!
We hope you are enjoying the last of summer and looking forward to the snow flying soon! We have been working hard this summer to make the upcoming season the best it can be for you. Below are a number of updates from some of the many volunteer committees working to improve the USSMA and grow the sport. Enjoy!
---
Purchase a USSMA hat or shirt!
---
USSMA Membership / License:
2020-21 Memberships will go on sale starting October 1st, 2020.
The Membership Committee is working on securing this season's benefits that come with a USSMA membership . We know that there is uncertainty about racing this winter. USSMA memberships are crucial to our organization and will offer discounts from coaching services to retailers. We also just received our codes for a one time purchase at Outdoor Prolink. We are so excited about their continued support of USSMA.
---
Race Committee:
The Race Committee is continuing to work on the race schedule for this upcoming season and has not finalized it yet. We are working with Race Directors and Venue hosts with the assistance from the Medical Committee to develop a strategy to host races for the 20/21 season. Our goal is to be able to host races this season in a manner that is safe for everyone. Email jerimy@ussma.org if you want to be involved in this planning.
---
USSMA National Team & Worlds Championship Team Selection:
UPDATES AND REMINDERSPreparations continue as we get closer to the season. We are in communication with race directors for qualifying events and will be working with them as plans evolve. We are also brainstorming alternative options if the events aren't able to be carried out as normal.
We are receiving updates from the USSMA Race and Medical Committees as well as the ISMF regarding the upcoming race season. We want to assure you that we are carefully examining all information put forth by the USSMA race medical teams as well as learning from other winter sports organizations to assure a safe and successful 2020/21 winter season. As more information becomes available we will make sure to share via newsletter as well as our USSMA.org website. Please stay tuned
In the meantime, here are a couple of reminders bellow from the last communication.
"The USSMA has decided to take on a new direction when it comes to selecting a US National Team for the next two upcoming seasons. We are shifting to create a "broader" US National Team, from which a subsection of racers will qualify to represent the US at the 2021 World Championships. The two, US National Team and USA SKIMO World Championships Team have similar but also different goals and objectives.
Please click here for more info on the National Team and World Team Selection Process."
ISMF World Championships, Andorra/Spain: Feb 26 – March 3, 2021
Races will include an Individual, Vertical, Sprint, and Relay. Because the Long Distance World Championships (Pierra Menta teams race) is the following week, the normal world championships will not include a teams race.
ISMF Long Distance World Championships, France: March 10 – 13, 2021
There will be two race divisions, one for national team pairings competing for the World Championship, and one for an 'open' division. US National Team members will have the opportunity to compete in the World Championships division and other athletes in the open division. If you wish to participate in the Pierra Menta, please email info@ussma.org for more information.
Masters World Championships, France: Feb 11 – 13, 2021
---
Sport and Performance:
The Sport & Performance committee has begun to develop a U16 national development program to engage and support youth athletes. The committee continues to work with the US National Team sub-committee with all things National Team and World Championships. In addition USSMA developed a Transgender Race policy.
---
Athlete Advisory Committee:
Dear Fellow Skimo Athletes:
WE ARE YOUR LISTENING EAR AND WE HEAR YOU
We sincerely hope you had a great summer despite these turbulent times. We wanted to let you know that all your feedback you communicated has been heard. We have taken the time to extract the most important information and will be sharing it with the appropriate committees to better serve you and provide you with enhanced experiences. We want to thank you again for working with us to help us grow as an organization as well as bring more athletes to the great sport of skimo. We wanted to share with you the complete results of our annual survey. Here are the survey results for CURRENT and PAST USSMA Members. We are working together with all USSMA Committees to make sure your voice is heard. Feel free to reach out to us anytime via email AAC@USSMA.ORG
The fall is in the air and the next skimo season is upon us. As you are thinking about the coming race season, there are many questions. We want to make sure you know you can reach out to us any time with ANY questions. We will make sure that your voice is heard. Best way to get in touch with is email AAC@USSMA.ORG
We would like to welcome the newest member of our Athlete Advisory Committee, Grace Staberg. Grace is becoming a "household" name in Skimo racing Nationally and Internationally. We are very excited to have our team complete. Adding Grace will give the AAC even more opportunities to connect athletes and the USSMA, further supporting the USSMA mission and vision. Help us please welcome Grace as your new "Athlete Representative". Congrats Grace.
Thank you for your time and consideration to helps us become stronger organization.
Jaime, Michela, Milan and Patrick
USSMA AAC, YOUR ATHLETE REPRESENTATIVES
---
Marketing:
USSMA is having a campaign this fall to highlight our National Team athletes and USSMA members on social media! If you have completed any fun virtual races this summer and want to tell us about it send us a note with a picture to michela@ussma.org. We are scheming up ways to get you more technical information about Skimo racing to get you tuned up for the season! Check out our Instagram and Facebook pages for Tech Tuesdays soon! Also, marketing is now working in close collaboration with the Fundraising team to develop more for you at each race and to broaden our development goals.
---
Inclusivity:
We stand together in our journey up, over and down mountains – whatever form they may take. The USSMA was built on the idea that ski mountaineering racing and having fun in the mountains should be accessible for all. The USSMA does not tolerate discrimination of any kind including on the basis of race, color, religion (creed), gender, gender expression, age, national origin (ancestry), disability, marital status, sexual orientation, or military status.
The USSMA recognizes that the sport of ski mountaineering in the United States does not come close to being racially diverse within its operational structure, member database and event participants. While this lack of representation was not built by design, we recognize that by listening and continuing to educate ourselves on the obstacles and opportunities, we can find a path forward to better support all people interested in the sport of skimo. The USSMA supports the spirit of equity demonstrated by the Black Lives Matter movement and the nation wide effort toward equality for black, indigenous and people of color, toward this end.
We have a plan in place to partner with organizations that align with our values to increase mountain access for all and to begin the efforts of meaningfully contributing to the awareness and diversity of our sport. We have some work to do and look forward to sharing our progress throughout the season. Have any feedback or ideas for us?
---
Medical:
The COVID-19 situation is a moving target here in the US and in Europe, and the safety for our athletes and race staff is our primary focus. Local health authority mandates regarding travel, quarantine periods and gathering sizes for events fluctuate widely even from Vermont to Colorado. We are cautiously optimistic that sound risk prevention strategies modeled after other national governing bodies will help us be able to safely race this season.
The World Anti-Doping Agency plans to release the updated 2021 list of prohibited substances and methods on October 1st. We encourage all athletes to review the ISMF website for athlete information and resources. If any athletes have questions about anti-doping or therapeutic use exemptions, we are available to confidentially discuss your questions.