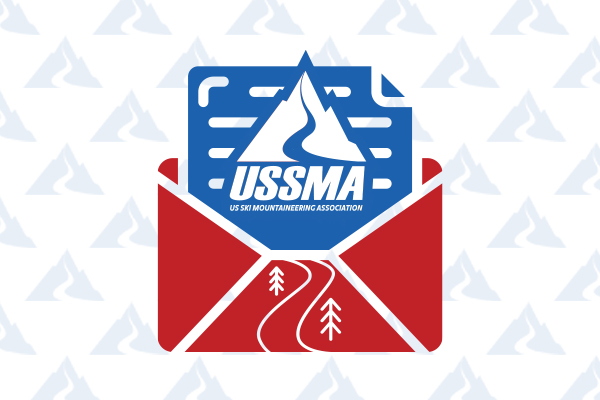 The snow is here! Are you getting excited for the race season?!?
Did you know there are thirty people actively involved in the USSMA as members of various committees? We have an amazing community dedicated towards growing our sport and supporting our athletes. THANK YOU to all our athletes, parents, community supporters, race organizers, and the members of all our committees for making the USSMA a great and sustainable organization!
The following newsletter is a summary of updates from all USSMA Committee Chairs.
---
Race
The Race Committee completed the updated Race Director Guidelines and Sanctioning process. The team has reached out to many race organizers to get their race dates and facilitate sanctioning.
Race Calendar is now posted online https://ussma.org/events-list-view/ (Please note that some races are still tentative.)
Proposed National Cup Series & National Championships
National Cup Series: https://ussma.org/national-cup-series/
Indian Peaks, Eldora CO – November 23/24 – Individual, Sprint (Nat Champs)
Heathen Challenge, Sunlight CO – January 4 – Individual
Ski Santa Fe Fireball, Santa Fe NM – January 24/25 – Vertical, Individual
Taos Ski Valley Rio Hondo Rando Raid, Taos NM, January 26 – Teams (Tentative)
Audi Power of Four, Aspen CO – February 29 – Teams (Nat Champs)
Powder Keg, Brighton UT – February 29 – Youth Individual (Nat Champs)
Shedhorn, Big Sky MT – March 14/15 – Indv, vert (Both are Nat Champs & Pan Am Champs)
Something Bigger, Sunday River ME, March 21 – Individual
Cody's Challenge, Steamboat CO – April 4 – Individual
National Championships: https://ussma.org/national-championships/
Sprint – Indian Peaks, Eldora CO – November 24th, 2020
Youth individual – Powder Keg, Brighton UT – February 29th 2020
Teams – Power of Four, Aspen CO – February 29th, 2020
Individual – Shedhorn, Big Sky MT – March 14th, 2020
Vertical – Shedhorn, Big Sky MT – March 15th – 2020
---
Sport & Performance
The Sport & Performance Committee has been focussed on identifying how the USSMA can best plan for future athlete and coaching development. A budget for more camps and training as well as recruitment is being worked on. We would like to announce that there will be a USSMA YOUTH CAMP Youth Camp 1/5 @ Sunlight! More details to come, but mark your calendars – race the Heathen Challenge on 1/4 and stick around for the youth camp on 1/5.
---
Membership
The Membership Committee has switched to Active Networks in order to support a better system of points tracking and the ability for members to keep their same USSMA number year after year. We have been reaching out to our partners and affiliates to increase our member benefits including coaching, training plans, retail, and race discounts. Additionally, we are looking to create educational videos and potentially some clinics to offer in the future. We have reached out to experts in the field for their assistance.
---
Marketing:
The Marketing Committee has reviewed different channels (social, PR, media, etc) to focus on and will be working on initiatives. Hopefully you all have seen a greater presence recently on Instagram with the many national team pics and profiles. We are also working on a marketing and promotional video to use for many different initiatives. We hope to have this done in the next month to share.
---
YOG:
Preparation for the Skimo's Youth Olympic Games debut continues. The selection races will be held on Nov 23/24 at Eldora, CO. Over a dozen competitive youth athletes have already signed up for the selections, so we should have a strong team. Please come out to cheer on and support these amazing youth athletes! This is Skimo's Olympic debut! For event details, see www.olympic.org/lausanne-2020. Potential donors and supporters, the fundraising committee will launch a fundraiser this month to help send our Youth Olympic Team to Switzerland.
---
Fundraising & Development:
The Fundraising/Development Committee has made a call to action to solicit companies for sponsorships and to create meaningful partnerships. Additional efforts are being made to raise funds to help with costs related to youth development, performance and athlete competition costs. The committee is eager to help financially support the Youth Olympic Team and will have fundraising opportunities at the qualifying events at Eldora Resort in November. Please come and support our youth.
---
Athlete Advisory Committee:
We have received excellent feedback on our member survey and are pleased to announce that we have replies to your feedback from Race, Membership, Sports & Performance and Marketing committees, which were provided within this newsletter.
At the moment we are currently working on TWO projects that were clearly high priority among survey participants.
ONE, we are calling all U.S. Athletes whom have plans to compete in ISMF World Cup races this season (2019/20) to connect with us via email: Milan@ussma.org.
The ISMF has two new delegates representing their AAC, Ekaterina Oveckina and Maximilian Drion, who are both very energetic and eager to work with other ISMF country members and their respective AACs. We are working on opening communication channels where all US Athletes will be able to submit feedback about ISMF World Cup races directly to the ISMF AAC.
TWO, we are working with the USSMA Sport & Performance committee to organize information to be used by NEW athletes who are interested in competing at the highest level but do not have experience in HOW, WHAT, WHY & WHERE. We would like to coordinate the "Racing Athletes Group" to create a "need to know" document that would serve as a guide to World Cup level racing. Stay tuned.
See you at the races!!!
~USSMA