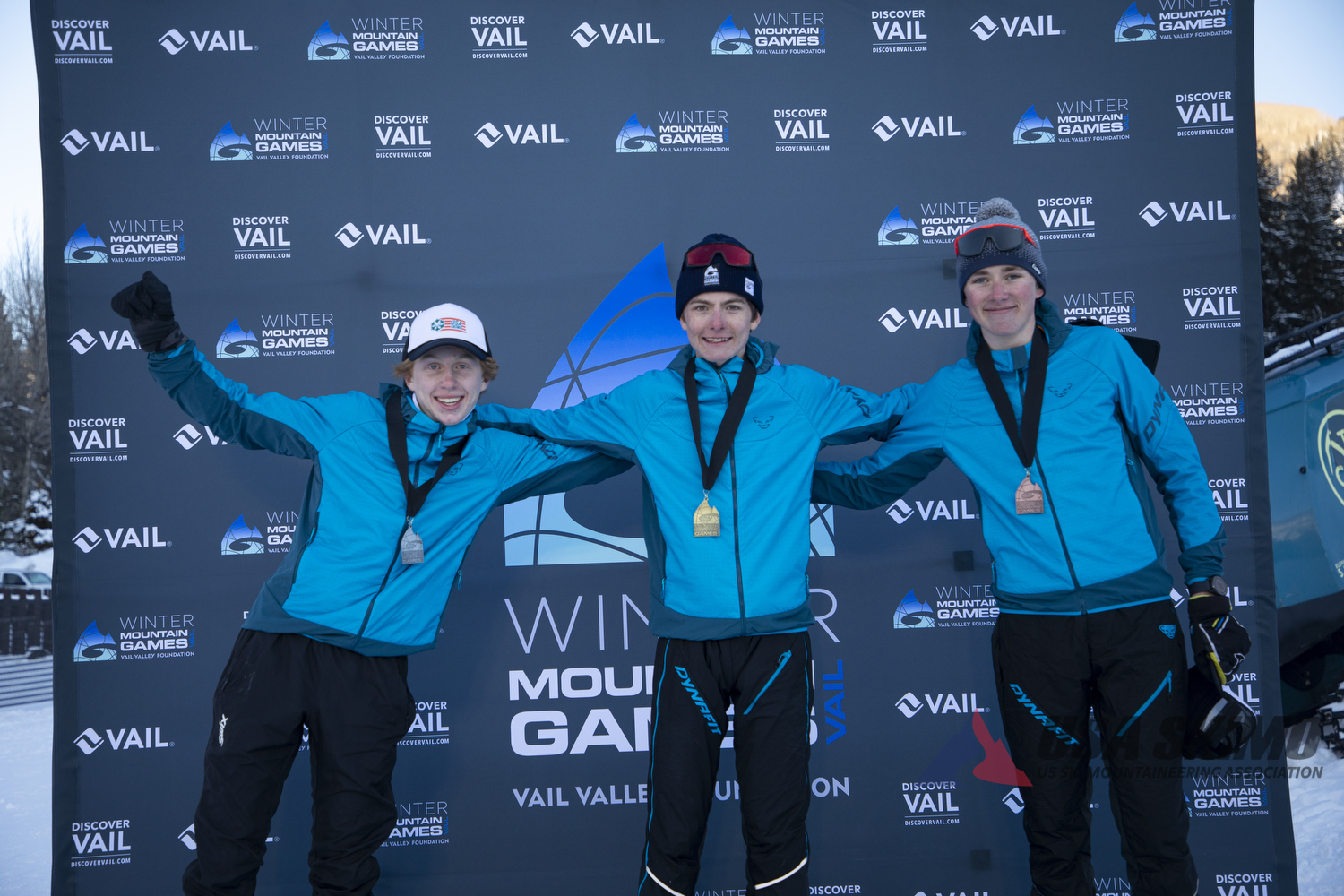 USA Skimo is preparing for transformative change. As an organization, we are focused on building a team that wins medals on the world stage while providing recreational racing benefits to athletes of all levels. We are working hard to improve the quality of ski mountaineering racing in the US for competitive and recreational uphill enthusiasts alike. With the Olympics on the horizon, we have the opportunity to expand the sport of skimo and support our athletes like never before—but we can't do it without your help!
USA Skimo is a non-profit, member and sponsor-supported organization, and your help is critical for the development of the organization and the success of its initiatives. Your support funds:
Performance Initiatives for the USA Skimo National Team development, both adults and youth.
National and Regional Training Camps for Athlete Development
The prominence of Sprint and Mixed Relay in the 2026 Winter Games motivates a new focus in race clinics and races. Training camps grow team spirit, teach entry-level skills for youth development and promote a thorough understanding of racing rules.
Increased Athlete Support for International Racing
To establish the US National Team as a winning force in the international racing community, our athletes need to persistently race in Europe and other World Cup Series locations as they emerge. With your help, USA Skimo will be able to cover athlete travel, per diem and racing expenses. USA Skimo continues to work on establishing US venues for the ISMF World Cup Series to raise the competitiveness of US athletes in skimo and increase spectator opportunities in the US.
Developing Athletes with Professional Coaching and Team Management
Our athletes are an incredibly fit and motivated group who to date have achieved their success through independent training. US racers won 8 medals during the 2021-22 World Cup and European Championships! We want to add professional performance coaching to help them push their performance even higher!
USA Skimo needs your help to provide professional coaching, team management, and organizational support to recruit and develop athletes at all competitive levels. This is a fundamental requirement for a high-performance team to persistently win international races. We cannot develop the pinnacle of the sport without your support!
---
Organizational Initiatives to support the continued evolution of USA Skimo into a national organization that provides resources and support to its entire membership.
Sustainable Fundraising and Relationship-Building with Sponsors
Member support has been USA Skimo's lifeline to date. To realize our aspirations of exceptional performance as an organization, we are working to expand into new fundraising channels and build partnerships with sponsors.
This time-consuming work is currently conducted by dedicated volunteers. Your support will allow us to build the creative and back-end support the team needs to make USA Skimo's vision of support to athletes, the USNT and recreational racing sustainable.
Certification of USA Skimo as the National Governing Body (NGB) for the Sport
While administrative in nature, this step is absolutely critical to allow US athletes to participate in the 2026 Olympics! Without NGB status and subsequent certification by the US Olympic & Paralympic Committee (USOPC), US racers will not be permitted to race in the 2026 Winter Games.
NGB certification requires staff training (i.e. anti-doping, sexual harassment), indoctrination (i.e. governance, leadership), and record keeping to achieve compliance with USOPC standards for all Olympic sports. NGB certification will also open access to potential funding from USOPC and the International Olympic Committee (IOC) for USA Skimo.
Improve Operational Support for Races Nationwide to Create a Consistent Racing Experience
The USA Skimo Referee Program grew from one ISMF certified instructor referee to three referees in the past year. Efforts like these are critical to developing a US National Cup Series and ensure a racer experience that yields fair racer rankings. Help us build a better US National Cup Series for all levels of racing!
Your support helps us improve the consistency of registration and communication for all National Cup venues, course planning and marking on par with European races, more Sprint races in preparation for 2026 Winter Games, venue choices with ease-of-access and technical terrain, and to grow the series from its regional focus by adding northeast and west coast venues.
I want to ring the cowbell for US racers leading the pack in world-level racing. Would you like to join me? I'm eager to hear the US anthem during a medal ceremony. Post your questions or comments below. Let's hear what you want to see from USA Skimo and the sport we all love!